Photo credit: Reuters
What do you know about forest fires? Climate change and its effects such as global warming and forest fires have been a hot topic since 2006 when Vice President Al Gore campaigned to educate people about global warming in the documentary An Inconvenient Truth.
First, here are some of the enormous disasters that happened in the past year up to the present.
Last year around August 2019, the Amazon rainforest, the largest rainforest in the world, with a vital role of slowing down the pace of global warming caught on fire. Parts of the forest burned at a rate we haven't seen in years.
Every year during the dry season, forest fires happen in the Amazon.  This time it was different because the fires were started by loggers grazing.
A total of 906,000 hectares burned down.
A few months after that, a 10-acre forest burned down in Calabasas California.  The fire included some of the most expensive celebrity properties owned by Miley Cyrus, Lady Gaga and Kim Kardashian West.
Right now as I am writing this article, there is a huge forest fire happening in Australia.  According to NBC, 32,400 square miles have burned.
Australia broke its all-time temperature record twice in December 2019. An average maximum of 40.9C was recorded on December 17, 2019.  This record was broken a day later by 41.9C, both beating 2013's record of 40.3C. –BBC
More than 10 years ago, we were warned about the effects of climate change.
What is the worldwide impact of a forest fire?
There are several impacts of a single forest fire depending on the range and severity. There are economic impacts, human casualties, ecological impact, and the extinction of species.
The economic impact
Right now Australia's bushfires are set to exceed damage of $4.4 billion. 
This type of damage cripples consumer confidence and creates poor air quality and pollution.  It affects the farming and tourism industry, also.
The damage to fresh produce will push consumer prices upward as fruit and vegetables are sourced locally.
Tourism took a significant setback as visitor numbers drastically went down.
According to tourism organizations, the damage will cost hundreds of millions of dollars for rebuilding.
The towns of Balmoral and Mallacoota are severely damaged by the fire.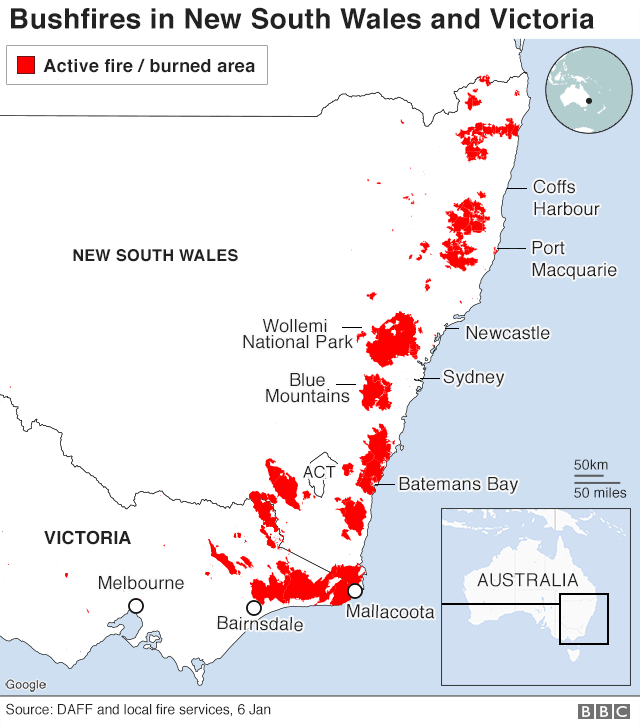 Extinction of species
In Australia, an estimated 1.25 billion animals have burned in the bushfire.
Dunnarts, a type of species that can only be found in Australia, is a very high risk for extinction.
According to ecologists, there are a lot of threatened species due to the fires.   Worst case scenario:  almost the entire population has been burnt.
And some species may never truly recover.
Furthermore, the countries' flora and fauna would take years to recover.  If conditions worsen, it may never recover.
With the fires extending thousands of miles, a lot of species have nowhere to escape.
Koalas and greater gliders can't fly and these are the types of species that are most affected, as well as the kangaroos. If they do escape, there will be no food available for them in the landscape.
Long footed potoroo has also been devastated by the fires, along with silver-headed antechinus. They are both marsupials.  The Hastings River mouse is also adversely affected.
The rufus scrub-bird is also in danger of extinction.
The extinction doesn't stop during the fire. In the aftermath of a forest fire, starvation occurs.
Birds lose the trees where they live and breed.  Surviving animals have nothing to eat.
As a result, they will move to an open landscape, which is a hunting area for ferals and foxes. Subsequently, they will die.
Ecosystem
The poteroos and marsupials help move fungal spores that promote regrowth.  Without them, it will have a significant impact.
In addition, fires cause carbon dioxide levels in the atmosphere to increase, which contributes to the greenhouse effect and climate change.
Furthermore, the burnt areas erode the soil which can cause landslides in the future.
We have gathered the organizations if you would want to lend a helping hand.
Here are 8 Organizations where you can donate for the bushfires in Australia
Source:  Business Insider Australia 
We have predicted this issue a long time ago and now, as a consequence of climate change, we are facing it. We can only hope that it's not too late.
Recommended from our shop